All in One Streaming-Studio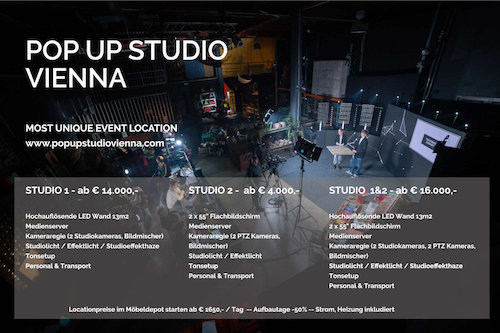 OUR SERVICES
THE POP UP STUDIO VIENNA IS CURRENTLY SITUATED IN VIENNA'S MOST UNIQUE EVENT LOCATION - THE MÖBELDEPOT. AS THE NAME 'POP UP STUDIO' SUGGESTS, IT IS ALSO POSSIBLE TO SET UP THE STUDIO AT YOUR OFFICE OR ANY GIVEN LOCATION. ALL WE NEED IS SPACE, GOOD VIBES AND ELECTRICITY.
THE STORY MAKES A MOVIE GREAT: WE FOCUS ON YOUR EVENT AND WHAT IT SHOULD CONVEY TO YOUR CLIENTS. WE SIMPLY UTILIZE TECHNOLOGY AND ADAPT IT TO YOUR NEEDS.
TECHNICALLY THE POP UP STUDIO EVOLVES AROUND HIGHEND MEDIASERVERS WHERE EVERYTHING INTERCONNECTS AND CAN BE CONTROLLED FROM.
WHETHER IT IS PRESENTATIONS ON LOCATION, REMOTE CALLERS, COLLABORATORS, LIVE VOTINGS, MOBILE DEVICES OR VIDEO CONFERENCES - ALL SIGNALS ARE CONNECTED TO OUR MEDIASERVERS, WHERE THEY ARE PROCESSED, MANAGED, MANIPULATED, GIVEN A SPECIFIC DESIGN AND FED OUT TO WHATEVER SCREEN - ON LOCATION, STREAMED ONLINE OR A MIX OF BOTH.